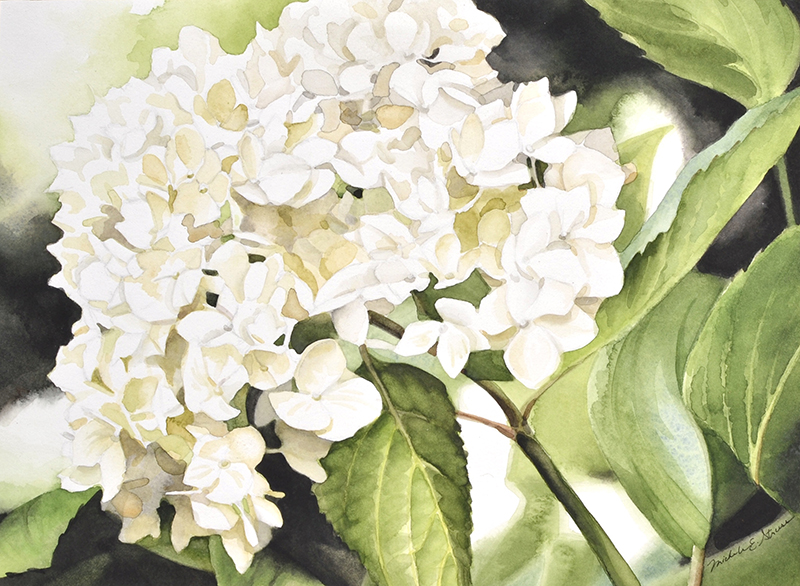 In light of Mother's Day, I decided to paint a white Hydrangea for this week's challenge as it is one of my mom's favorite flowers. Nonetheless, one has to wonder why of all her favorites I chose the one that has about 50 flowers on it instead of one! Haha. I painted this from a photo that I had taken for a photography class; the only thing was, the hydrangea was deep pink, not white! …thus, an added challenge.
This whole challenge has been lot harder for me than you may think. Each week, once I decide on my subject, I see it in my mind's eye as I want to see it on my paper…loose! But it continues to be so difficult for me to keep that vision alive as it passes through my hand and onto the paper. It can be discouraging when I am investing so much time in pursuit of this freedom; yet I look at this paining and it is SO MUCH looser and less detailed than my usual style. Still, I have so far to go before I reach my goal. This indeed is no sprint, rather a marathon and the finish line is still a ways away. …and that's okay! I just have to keep running!!
Since I did this painting with my mom in mind, I decided to name it "A Delicate Touch" as that is what she so often brings to my life. If you haven't yet read my Mother's Day post, it gives a glimpse behind my mom's 'delicate touch'.
If you missed my post which explains this year-long challenge, please read You're Invited To The Unveilings.