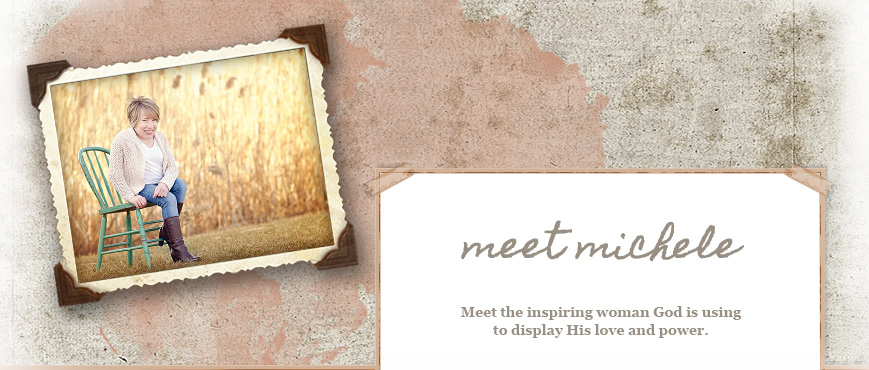 Let me introduce myself; my name is Michele Struss and I was born, raised and still live in northern New Jersey. I have a passion for life, family, friends and most of all for God and His purposes.  I am an artist, speaker and teacher whose heart is to encourage and inspire others.  I was born with a form of dwarfism known as spondyloepiphyseal dysplasia congenita (don't worry, there will be no test), and while I haven't grown much in stature, it is what God has used to grow me in countless ways.  Due to the orthopedic complications associated with SED I have been in the operating room close to 30 times in my life and face challenges daily, yet I have found treasure hidden through it all.  I once heard it said, "Some things cannot be known about God apart from pain, weakness and need," so for me, it has been worth it all just to know Jesus and His love the way that I do.
I studied at Messiah College in Pennsylvania where I earned my BA in Art, but with a concentration in Graphic Design.  I regret that decision.  I am a painter, and working with a computer is nothing like working with the raw materials of paint, brushes and paper. So, shortly after graduating I returned to my watercolors, but a whole new style and intensity had emerged within my work and suddenly my paintings were looking more like photographs.  I loved painting flowers, but because my work was photo-realistic, there was very little of my heart, my experiences and my faith integrated in; they were mirror images of the photographs from which I painted.  I wanted more from my gift than pretty paintings that looked like photographs, so I entered a season of praying for God to use my gift and fill my work with purpose.  His answer came through the words of renowned artist Ron DiCianni who asked, "What makes you weep when you are on your knees before God? That is what you are supposed to address in your work!" As soon as I read those words God filled my creative spirit with inspiration; inspiration to paint people.  The problem was that I had been intentionally avoiding portraits because of the difficulty of the subject matter coupled with my photorealistic style in watercolors.  Watercolor is the most unforgiving of mediums and I knew if I made a mistake, there would be no changing it.  Nonetheless, the call of God is powerful, compelling and inspiring and so I embarked on a journey of trust and obedience.  As I kept failing in my efforts I found myself continually praying, "Lord, I cannot do this on my own; I need You to be the artist and simply use me as Your paintbrush."  As challenging as it was, God not only enabled me to fulfill His call to paint people, but He traded my dread for passion.
Through this fresh call I've been able to integrate my heart and experiences of serving the poor on the mission field, with my gift of painting, to give voice and aid to those who are without.  Through this I have learned that how I paint is not nearly as important as what I paint.  My goal is not to impress the viewer of my paintings or my life; it is to move them.  With that said, I hope that as you move through this site the words and paintings herein will speak to an area of your own life that may be looking for a bit of hope and inspiration.
Blessings,