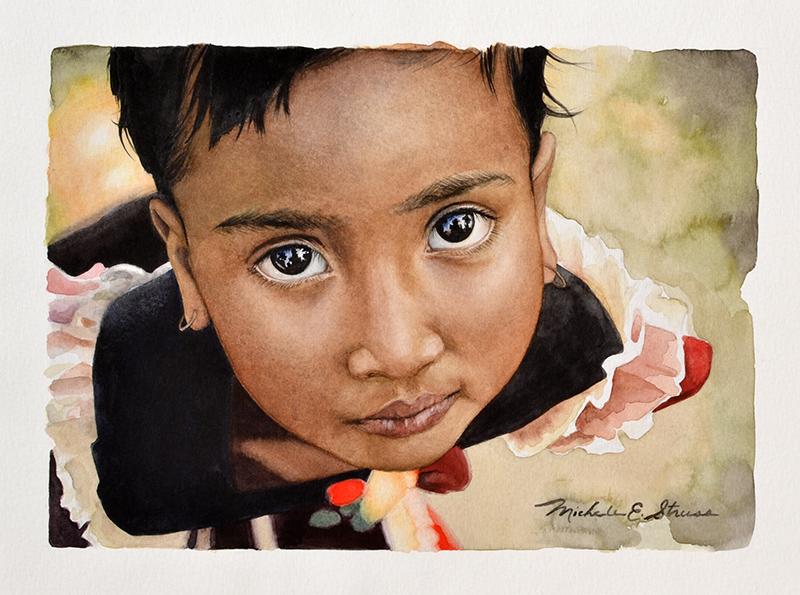 So, this week's challenge had successes and failures. My plan was to do the girl's eyes ultra-detailed and then the rest looser, drawing the viewer in. Well, the paper couldn't handle all the layering and rubbing of my brush and therefore lost its coating. That is why if you look closely, you will see her face is very 'speckled'. It is too technical to explain why, but in the end, I was not able to apply the looser techniques I wanted on her face as a result. However, since layering was not needed on the background nor her dress (aside from her black collar on the left) I was able to stay loose!! Woo hoo!
Thank you to my friend  Morgana Wingard who I met while working on a project for Calcutta Mercy. Morgana is an amazing photographer whose work I have admired from day one and painted Overcome from! The photo I used in "Hiding Hurt" always captured my heart, so I was excited when Morgana graciously allowed me to use her work again to paint from! She photographed this little girl while on assignment in India, but unfortunately, she does not know her story. Just looking into her big eyes though I knew there was a story behind them and "Hiding Hurt" just kept running through my mind the entire time I painted it.
This was the first portrait I have done in years. I think the last one I did actually was "Overcome". Since people are my favorite subject to paint, I will be doing more along this challenge as I really want to conquer the ability to paint looser…but first I will be experimenting with some new paper options!
If you missed my post which explains this year-long challenge, please read You're Invited To The Unveilings.