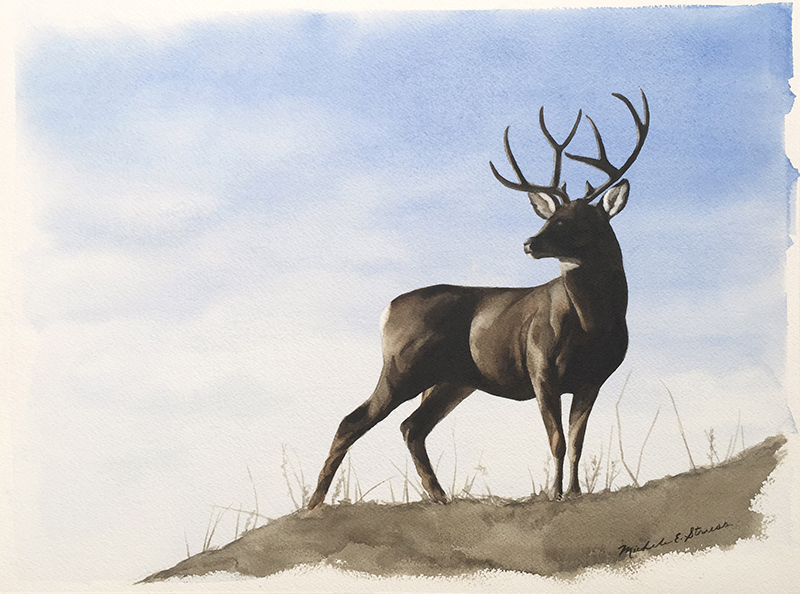 The Sovereign Lord is my strength; he makes my feet like the feet of a deer, he enables me to tread on the heights. Habakkuk 3:19
Recently the Lord put Habakkuk 3:19 on my heart to pray over my friend. As I read the verse, my own spirit testified as I reflected on this year-long challenge that I committed to. While I do not regret at all taking on the challenge, it did evolve into far more than I ever knew I was signing up for. MANY weekends I was up until 4 AM, 5 AM, 6AM… working away so I could have it finished by Monday each week. But that was only part of it; the actual challenge was so much harder for this perfectionist than I ever dreamt. I share all of that only to say, it was the Lord alone that enabled me to stay with it each week and "tread on the heights".
I would have thought that by week 50 it would all go a little easier for me…but n-o-o-o. It wasn't the deer that gave me a run for my money, but the sky. Yep. Man, did it ever beat me up. I drew the whole thing out and just could not get the sky right so I kept layering and layering (on that first one I was trying to do a sunset to represent the ending of this challenge). So, I redrew the deer and tried again, only to over-layer that sky too. Well, my family was in town for Christmas and all of this was taking me away from them. I left for the Christmas Eve service so discouraged because I was DETERMINED to nail the sky WITHOUT layering since this was my last piece, yet, I knew I needed it done in order to post Monday evening…which would mean more time away from my family that I only get to see twice a year. Well, during worship in the Christmas Eve service God released my spirit from the self-imposed 'law' that I needed to post it on Monday. It was awesome as I literally felt the weight and stress lift. While I had many goals with this challenge, at the heart of them all was to gain freedom. God gave me that on Christmas Eve.
The only thing that was important to me was that I post this final challenge while it was still 2016…which it is! …albeit, just barely. 🙂 Once my sister and her family left on Thursday, I headed back out to the studio to tackle this final piece. Unfortunately, I again struggled terribly with the sky. The larger the area that you work in watercolor, the harder it is to create a smooth look. I believe I did 7 attempts at the sky before I nailed it on this one. Thankfully, once the sky was done, the rest flowed.
"He Enables Me" is an interesting final piece to me as it is a perfect blend of everything I fought so hard for all year (loose brushwork – in the ground and less layering – in the sky) as well as what comes so naturally for me (detail and a tighter style). I really like the way they play off each other and would not be surprised if this is a harbinger of what my work will be like moving forward.
I really cannot believe 50 weeks have come and gone. I have learned so much through this experience; yes, about art, but countless life lessons and more. That said, I plan to write a post each week in January to share with you some of those treasures that will hopefully resonate with you in your own story. In the meantime, let me take this opportunity to say a HUGE THANK YOU to those of you who so faithfully supported me throughout this year. It may have simply been clicking "like" on Facebook, but you will never know how that translated into cheers, encouraging me to keep going. And for those of you who commented and shared with me in person your support, THANK YOU. Your words were treasured in this struggling artist's heart. You all made this journey that much more special and doable for me. Thank you again and I wish each of you a Blessed and Fruitful New Year!!
If you missed my post which explains this year-long challenge, please read You're Invited To The Unveilings.