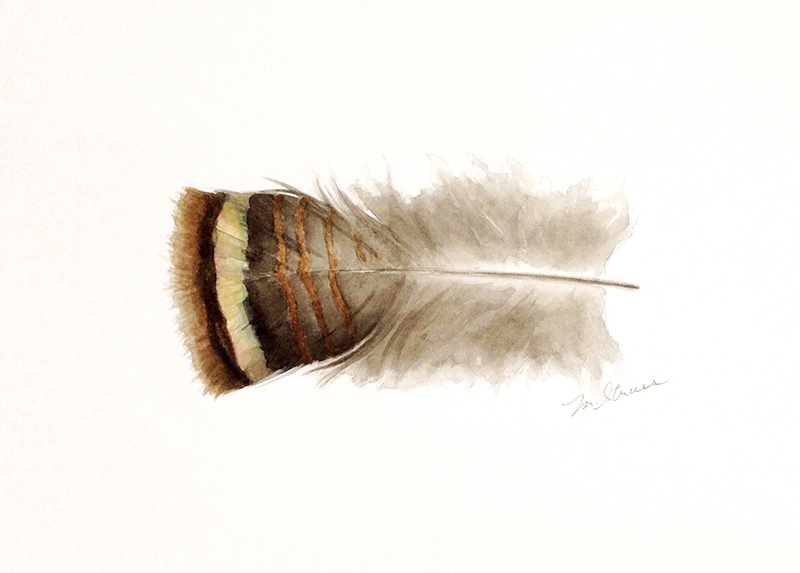 We have a flock of wild turkeys that grace our yard every day. They seem to be a good security system for us as they tend to scare people away. Haha! They peek in on me from time to time through my bedroom window, but more often, they keep an eye on me out in my studio. Ever wonder where the term "Peeping Tom" comes from? Haha!! Well, the day before Thanksgiving a turkey was having what seemed like an anxiety attack outside my large studio window. He was feverishly pacing back and forth, looking in the entire time as he knocked with his beak and clucked away. This went on for at least 15 minutes! I am pretty sure he was begging for a place to hide until Thanksgiving had passed.
I thought about painting him for this week's challenge, but a lack of time and a renewed determination to simplify, I ended up 'dumbing down' my plan to simply painting a turkey feather that I had found outside the studio. I want to finish this challenge in 4 weeks STRONG. I know very well how much looser my work is than before I started this challenge, but I am still missing the mark for the vision that is in this head of mine. I just desperately want to prove to myself that I CAN do this, despite 11 months of work that says differently. Please don't give up on me, because I'm not giving up!!
If you missed my post which explains this year-long challenge, please read You're Invited To The Unveilings.