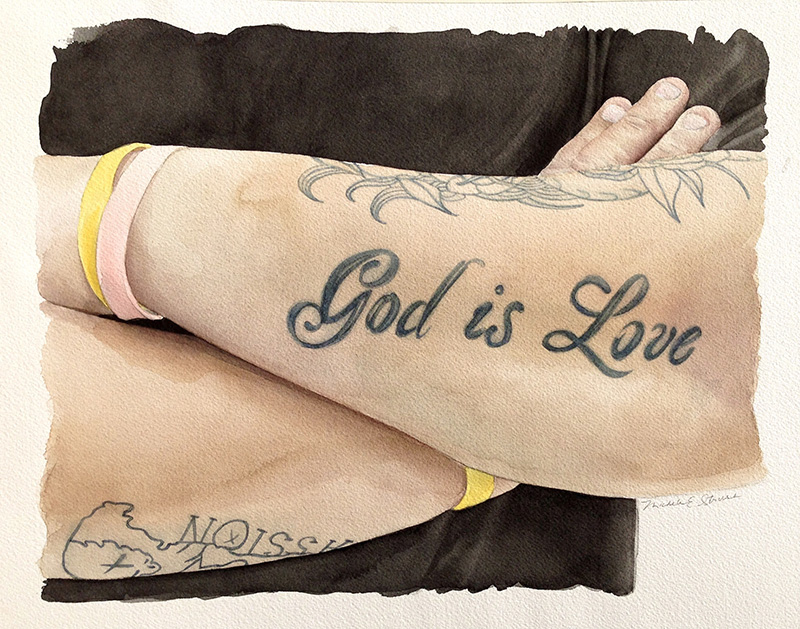 The inspiration for this week's challenge came a couple weeks ago when my parents and I went to Apple to resolve some issues they were having with their phones. We had the nicest Advisor helping us; he was just a big teddy bear. He was leaning on the counter with his left hand as he was working, and because I am short, I had the perfect view of this tattoo of his. I was captivated by the declaration he was making to the world around him. He let me take some photos of his arm for a potential challenge, but I hadn't really thought it all through and the shot was just too boring to create an interesting painting from. Well, this past week I had issues with transferring photos from my phone to my laptop, so back to Apple my mom and I went. We had just gotten there and were setting up when our buddy Alvin spotted us amongst a sea of people and quickly came over to help us once again. He doubled that day as technical support and model for me. 🙂 Thank you, Alvin!
I really enjoyed working on "God is Love", though I had my 'timid pants' on. Haha! I ended up doing way more layers on his flesh than I would have liked, but when the paint is wet it can be very difficult to judge the shade as it dries lighter. But if I get it too dark, there's no turning back, so I took the slow, but safe route to get there. It should have been darker still, but it was after 5 AM and time to say, "It's good enough". This piece is definitely not as loose as some of my more recent ones, but I did allow water stains to happen without kicking and screaming! Lol. I went outside the box with not filling in the bottom right corner with a background color; I liked the pop and interest of it…though admittedly, I am rethinking that now.
Through his tattoo, Alvin was declaring truth and hope to a hurting world. Whether tattoos are your thing or not, I wonder what message you and I are declaring to the world around us.
If you missed my post which explains this year-long challenge, please read You're Invited To The Unveilings.