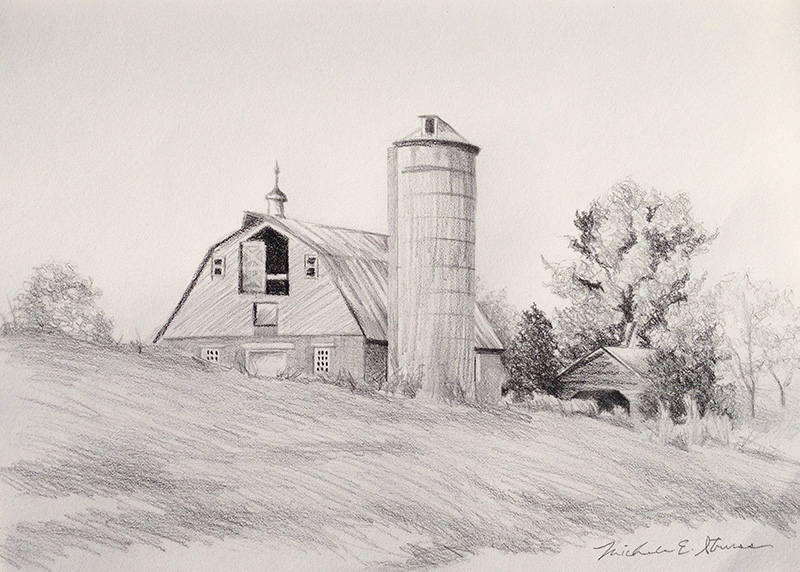 So, I'm on the last leg of a weeklong road trip where I have visited friends in Maryland, Virginia and now Pennsylvania. Because of traveling, I decided to just bring along my sketchbook and some pencils rather than packing up all of my paint supplies. While visiting my friend in MD, she and I passed this barn on our way out for the morning. As we drove around a bend we could see the barn up on a hill from a distance, and my eyes stayed locked on it as we drove closer and closer to it. The whole time I was thinking, "Grab your phone and take a picture!" – but I didn't. So, on the way back my friend stopped so I could capture the roadside beauty (thank you, Christy!). I wrestled with whether or not to draw it for this week's challenge because the colors were so beautiful and it seemed that too much would be lost through a graphite interpretation; but I decided to go for it anyway.
While I started the sketch in MD, I did most of it one evening at my friends' in VA while we watched the MLB playoffs with our feet up, eating ice cream, pizza and Lucky Charms (thank you Brian!)…and that was all AFTER we went out for a big dinner! Haha. So, back to the sketch, you can see that I started out good and loose on the right side, but as I worked my way left (I'm left handed) you can see how I fell back into a tighter style. UGH! That's the way it goes with me…I start out loose, but inevitably the perfectionist in me overworks it in time. I should have given myself a time limit this week and that wouldn't have happened, but the environment was so relaxing, who felt like rushing?
On a side note, thank you to everyone who gave me great suggestions for a name for last week's challenge, "Untitled". The winner is . . . "Finding Rest"!
If you missed my post which explains this year-long challenge, please read You're Invited To The Unveilings.