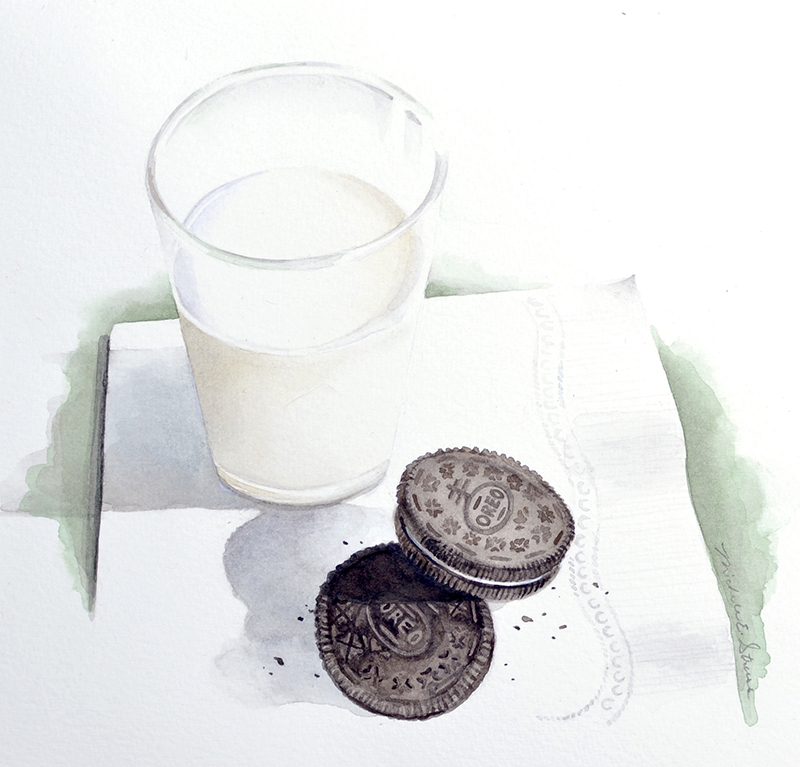 Surprisingly, this week's challenge was my hardest yet; though knowing my strengths and weaknesses, I guess that's really not so surprising. While in many ways "Friday's Snack" is minimalistic and looks very simple, it beat me up! The perspective made what I thought would be an easy piece very challenging. On top of that, it is just so difficult for me to keep my style loose. Truth be told, what you see is 'take two'. The first attempt I abandoned half way through as it was becoming everything I am fighting against (as was I), and in watercolor you cannot go backwards.
That in and of itself is a big step for me. I usually FIGHT my way through a painting until I am happy with it again. With Redemption I did that for MONTHS until God finally took it out of my hands when I accidentally spilled dark paint across the Lamb. This strong-willed girl is learning to let go sooner in art…not because I don't like something, but in watercolor it comes to a point where it is past redeeming. So, I started "Friday's Snack" over and applied what I had just learned on the first attempt and definitely enjoyed the process more the second time…though the painting and I still fought! Haha.
Those who know me well know that I didn't actually eat BOTH cookies…but one would have been far too pathetic looking. Haha! 
If you missed my post which explains this year-long challenge, please read You're Invited To The Unveilings.