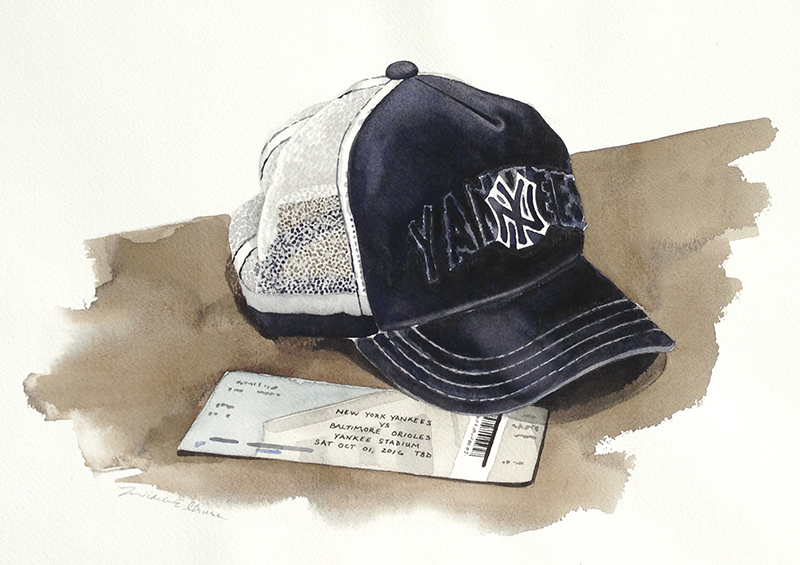 Saturday afternoon my friends and I went to the Yankee vs. Orioles game…and had a blast! It ended up being the Bombers' last win of the season, so that was an additional bonus! I came home and put my hat and ticket on my dresser and thought, "There's my challenge for this week". 🙂
While I am still really struggling and learning in several areas of this challenge, I noted this week how being loose is coming a little more quickly and naturally for me. Usually, I have to force myself to be loose and constantly mindful to avoid reverting back to my more realistic (and perfectionistic) style. Something else that is extremely challenging for me is to simply 'represent' something; I by nature want to spell out every detail which leaves very little to the imagination (not necessarily a good thing). Nonetheless, if you look at the ticket, there is a lot of 'representing' and simplifying going on…and I didn't fight it once! Haha! All kidding aside though, that really is progress for me!
Nothing along this journey has happened easily or overnight and I am still so far from where I want to be before the year ends.  Nonetheless, I am thankful to be seeing growth that would never have occurred if not for this year of pushing myself out of my comfort zone (in so many ways) as an artist. If you missed my post which explains this year-long challenge, please read You're Invited To The Unveilings.