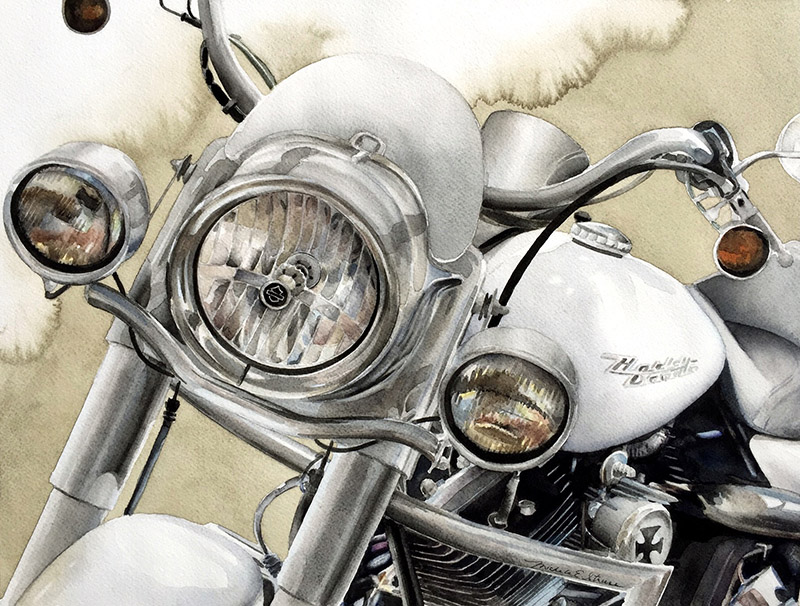 Ahh, where to begin. This week's challenge took me a lot more time than I allotted for, yet despite really long hours in the studio, I had so much fun painting "Road King"! …it helps when the subject matter is so fun. However, I unquestionably fell off that horse again with this challenge of loosening up. I could have predicted that though with choosing a subject matter that has so much detail, but ever since February I have wanted to paint this picture. Back then, my mom and her friend went to Harley Davidson to buy a gift and I tagged along so that I could photograph some motorcycles for a challenge 'someday'.
Well, last week a miniseries was on called "Harley and the Davidsons". It was excellent and very inspiring. I love hearing how success stories began and how they overcame obstacles. Needless to say, it is what spurred me to take on what I knew would be a more involved piece for this week's challenge. Though truth be told, if time weren't an issue, I would have loved to have done this painting life size; but since I had all I could do to finish a 16″ x 12″, that probably would have been out of the question. Haha!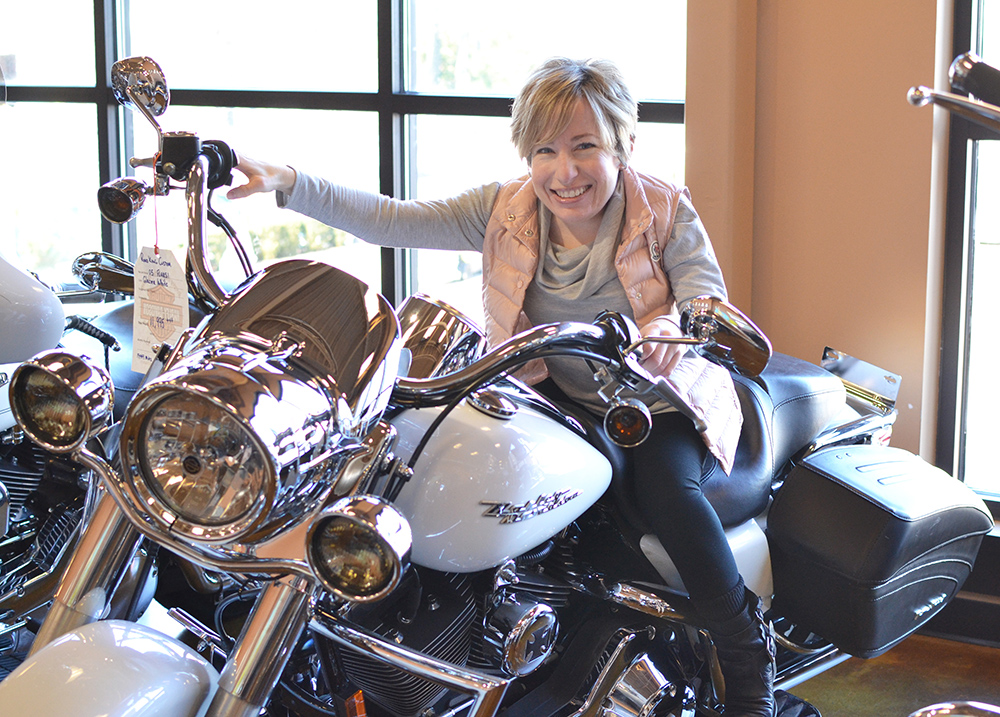 While I photographed many bikes that day, this was the one that captured my attention the most…and my affection. It was a 2005 Road King Custom. Look at the smile it brought to my face! Maybe it was because this was taken in February, just after one of the hardest years of my life (physically speaking) having had two major surgeries and months of being still, but oh did I want to MOVE on that machine!! It's probably a good thing that my feet didn't come close to touching the ground, otherwise I'd be asking for a $12,000 birthday gift. Smile.
This was by far my most time-consuming challenge yet…and unfortunately, the furthest from reaching my goal. I went to bed in the wee hours of the morning last night with my painting finally completed. While I was 'pleased' with it in and of itself, I was very discouraged that it did not reflect any of the growth that has occurred this year (except that I had fun with it!). I just went back and read the post I wrote at the onset of this year-long challenge, which you can read here. In that post I said, "…these will be small, quick works of art…nothing like my big, detailed watercolors. I may spend 5 minutes on some and 5 hours on others." I spent 5 DAYS on this one. While 5 days is not long for a painting like this (for me), it IS long for a challenge like this. So, starting next week I will be making a significant change that will thrust me into the heart of this challenge. I want to finish the year STRONG, so I need to revamp my entire approach and mindset that has veered so far from the course. I don't want to be like that parked motorcycle that had so much potential, but without turning its key, it remained untapped. Can you hear my engine revving?! Vroom vroommm…