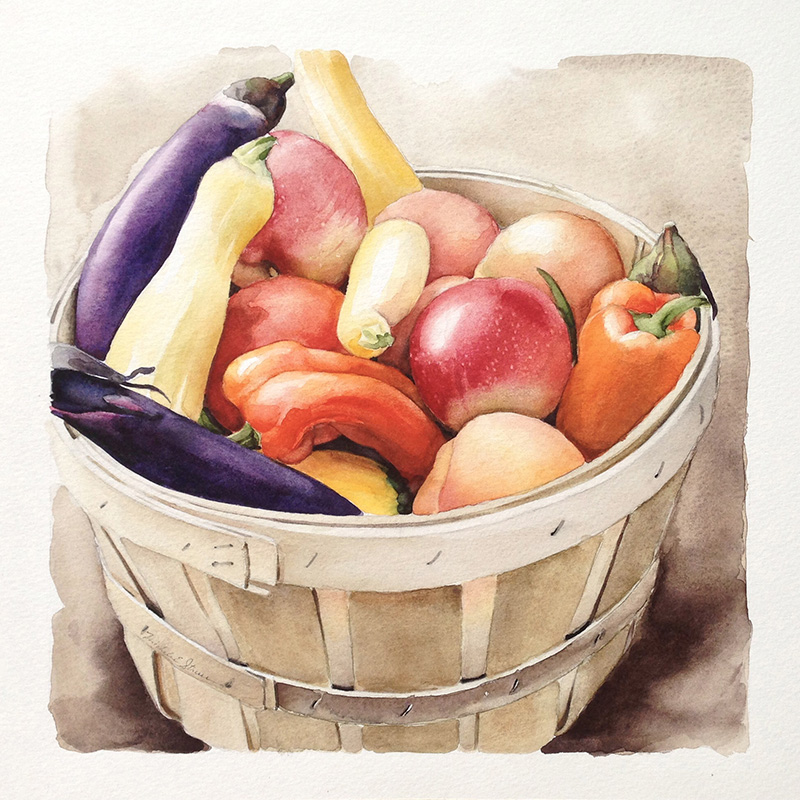 This past Wednesday, my cousin and his wife invited a bunch of us to the Great Tomato Tasting at the Rutgers University Center for Sustainable Agriculture on Snyder Farm in Pittstown, NJ. It is an annual tasting of over 80 heirloom and hybrid tomato varieties, as well as honey, melons, other fruit and a tour of their 390 acre farm. So fun!
From there we all went to my cousin's for a BBQ. Their two homes are surrounded by those 390 acres of farmland. Beautiful. We arrived back at their house in shifts; and here came one of my cousins with this basketful of fruit and vegetables that she won in a raffle at the event! When I saw her, I had a pretty good feeling that was going to become my next challenge. Smile. Thank you for the inspiration, Cheryl!
I had so much fun working on this week's challenge! I don't know what was up with me, but I was so laid back throughout this painting!! If you zoom in you will see that many of the edges are not smooth at all, showing the loose and laid back approach I had! THAT excites me!! Haha!!! I loved all the colors and textures that I got to explore with this piece. Another week down. If you missed my post which explains this year-long challenge, please read You're Invited To The Unveilings.