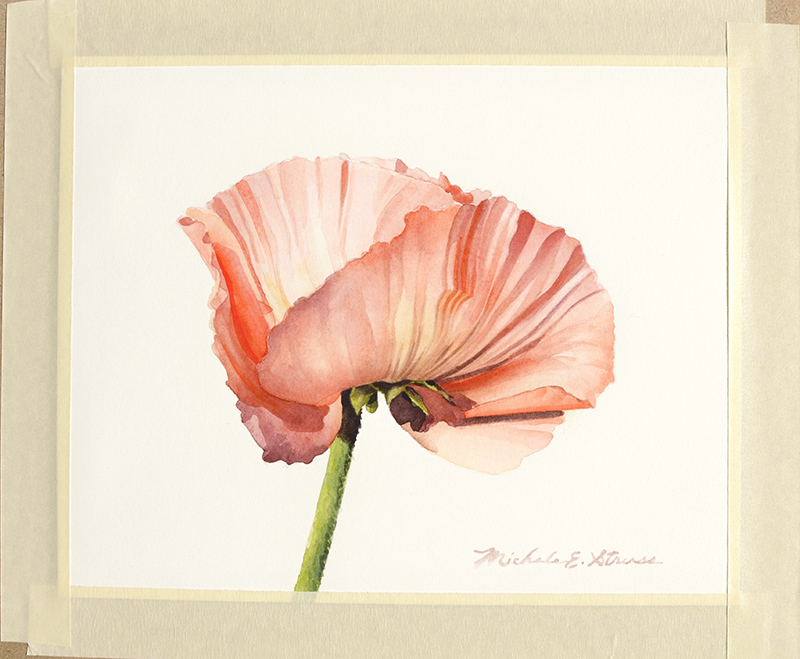 Well, this week I beat my craziest challenge story yet. I really try to keep these weekly challenges to the weekends and of course, some weekends are busier than others; so, I am usually finishing it in the wee hours of Monday morning. I'm wired for it though. Growing up my friends' moms didn't want me at the sleepovers because I always rallied the girls to stay up late. So funny. Us creative types are late owls. However, this week I never started my challenge until the wee hours of Monday morning (this morning). Yup, it was after 1:00 am before I started! That's even insane for me, but as soon as I finished last week's challenge, I went to work on a painting for the Museum of Biblical Art that has a deadline. I put in 12 – 15 hour days in my studio and as soon as I finished that one, I started this one.
Inspired by Georgia O'Keeffe's "Red Poppy", as well as the need for something 'easy', I decided on this single Poppy. Each week I see my subject the way I'd love to see it on my paper, but what I learned this week is that when I am exhausted, I am on autopilot and default to 'my ways'…which are not terribly loose. Haha! Because of the nature of the flower though, there was the ability to be free in my brushwork, but everything green is no doubt hyper-controlled. Here's to a week of rest and a freer approach next week!
If you missed my post which explains this year-long challenge, please read You're Invited To The Unveilings.