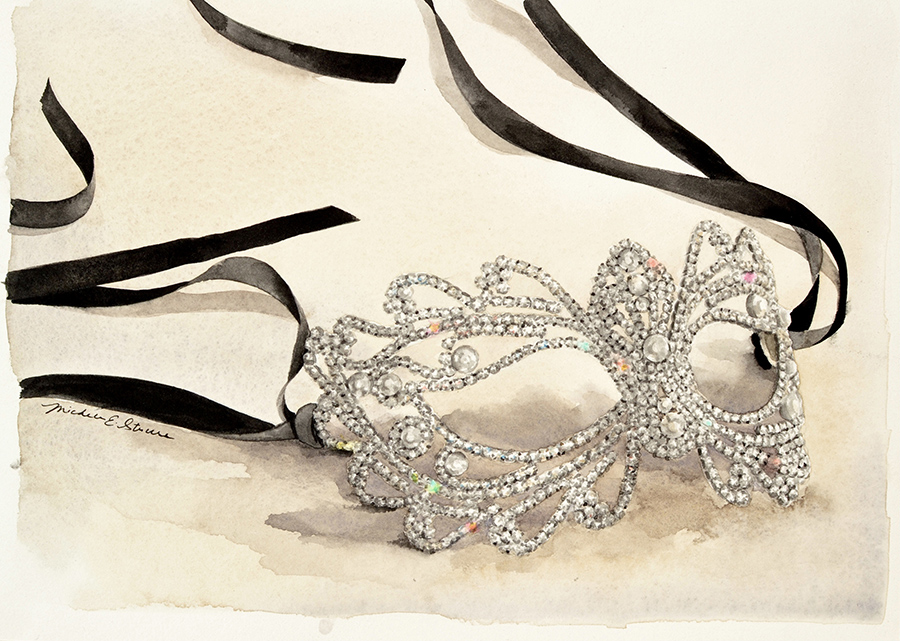 Well, this challenge is fresh off the drafting table. Literally, 'just' finished it, photographed it and now writing about it. This one gave me a run for my money – not because it was difficult, but because it was time consuming. Unfortunately, it wasn't the best subject matter for 'loose brushwork', though I am pleased with how it turned out with the detail of the mask against the backdrop of a washed background. I created the background and shadows with so much more confidence and understanding thank you to the past 3 weeks of studying watercolors through washes. …though I will say, the cheap paper that I used for all my practices responded a lot better to washes than this, my good paper. Interesting, right?
The inspiration for this piece came when my friend and I took a road trip. While shopping we went to an accessory store where she found herself a tiara. I told her to pick one out for me and we'd take a selfie. Well, she comes back with this mask in her hand. I am quite sure she was not prepared for my reaction, but I LOVED the silly thing!!! After our selfie and some laughs, I carried the mask around with me as if I was actually going to buy it. Trying to justify such a thought, my friend suggested that I paint it for a challenge. When I found out that I could return it, the temptation to make my most 'impulsive' and 'irrational' purchase ever was more than I could handle. Yes, it went home with me; however, since I don't see a masquerade ball on my calendar any time soon, the mask is going back this week.
If you missed my post which explains this year-long challenge, please read You're Invited To The Unveilings.