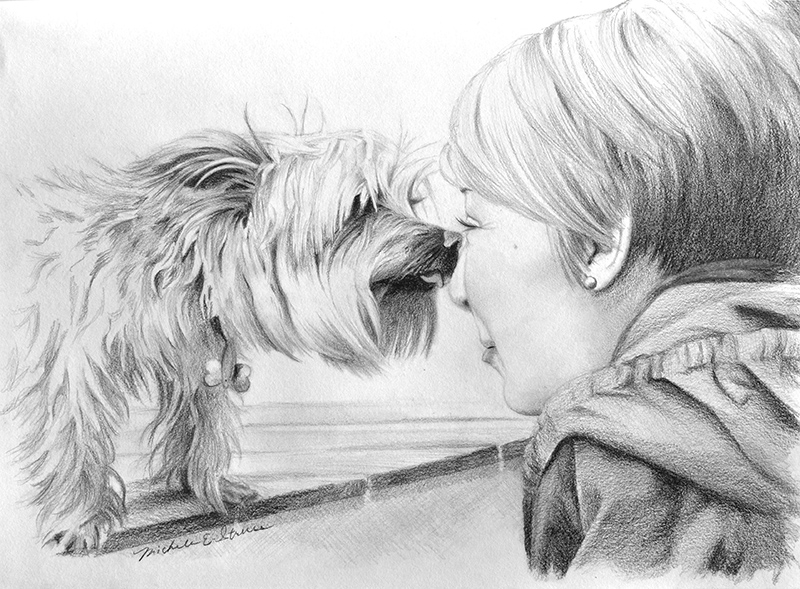 Needless to say, my heart was very involved in the creating of this drawing. For those who don't know, Skeeter was my Christmas gift back in 1997 and my 'baby' for the next 17 years. Sadly, an accident forced me to put him down less than a year and a half ago. If you haven't already (and if you'd like), you can read the post I wrote after losing him, entitled Saying Good Bye Is So Hard. When I held Skeeter in my arms knowing the end was minutes away, I told him to take my heart with him. Let's just say, he always was an obedient dog.  I still miss him and am pretty sure I always will.
Drawing-wise, I enjoyed working in a medium that I could actually erase! That is a novel concept for a watercolorist since you cannot cover up a mistake in watercolor. I also enjoyed the challenge of evoking emotion without color.  Next sketch/drawing I do though I want to do looser….ugh, so hard for me!
Thank you to Amanda Herrold Photography (aka, my BFF) for my reference photo. She was over for a photo shoot when she caught Skeeter's affection between shots.
If you missed my post which explains this year-long challenge, please read You're Invited To The Unveilings.