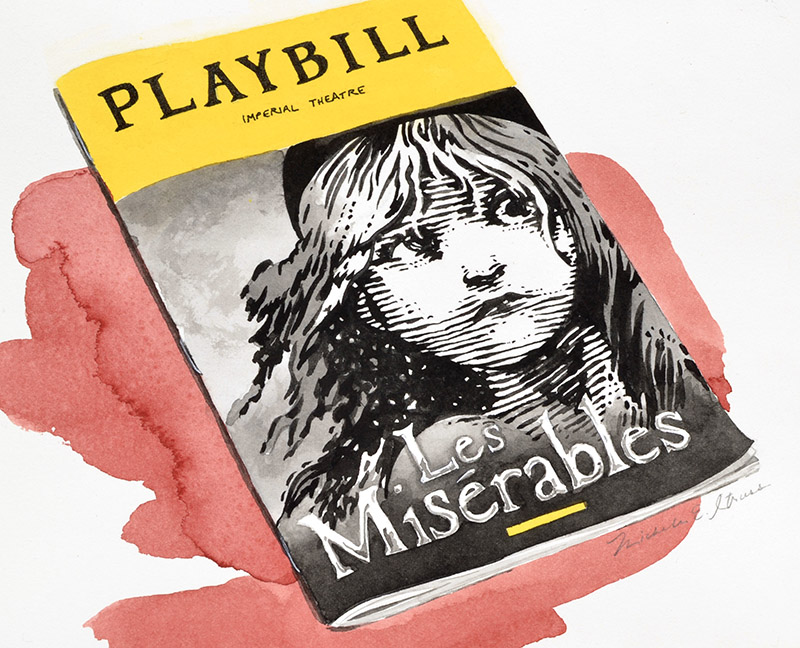 The inspiration for this week's challenge came when I went into the city last week with my family to see "Les Mis". I thought it would be fun to paint the playbill, but I have to admit that while I was drawing it I was wondering what the heck I was thinking! The perspective is what made this piece very difficult. It wasn't the shape of the playbill that was so hard, rather the perspective of Cosette as I had to foreshorten her. Yet somehow in the end, she is what I am most pleased with! And as if this piece wasn't challenging enough for me, I drew the whole thing from life, not a photo which would have been SO much easier.
On top of it all, this week's challenge proved to me that I am indeed loosening up! Yes, in my style/technique, but also in my attitude and perspective. The word "Playbill" is a train wreck to me, and yet this is one of my favorite challenges so far! Plus, could the red be any "looser"? I mean, really. I actually like the contrast of the broad brush strokes against the playbill and the pop of color (so not like me to use something other than a neutral!!). Baby steps, but I am getting there!
Please stick with me as I am only half way there. When the year is over, I will have 50 pieces of art from this challenge and last week was #25. Thank you for journeying with me as you are a big part of my inspiration! If you missed my post which explains this year-long challenge, please read You're Invited To The Unveilings.