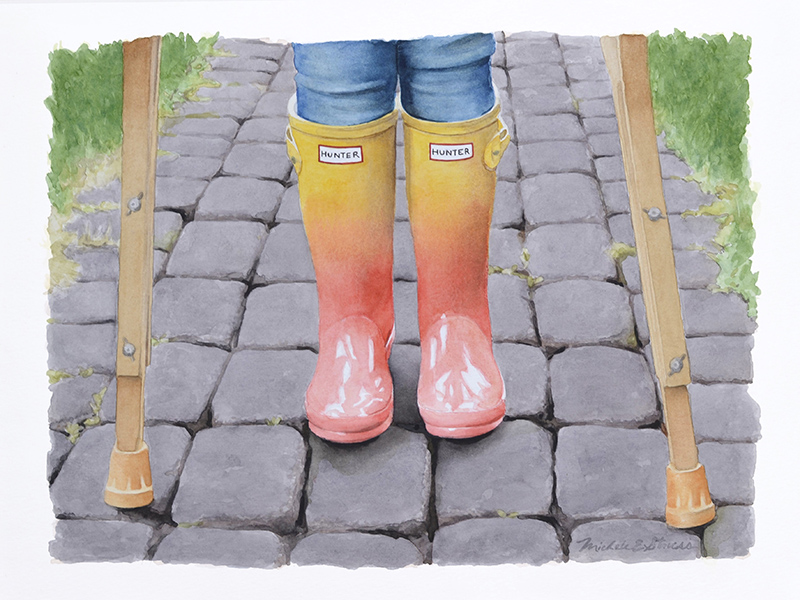 I want to begin by thanking each of you who have been cheering me on in this art challenge with your comments, 'likes', shares, texts and emails. You probably don't realize the impact, but you are giving me courage as I step outside my comfort zone each week. THANK YOU for that!!!
For those who don't follow His Paintbrush on Facebook, last week I posted the photo of this image saying, "I figured out a way to combat the dreariness of these rainy days… buy fun boots! Haha. I'd been wanting to do a self-portrait of this sorts based on one that I had done in my college photography class where all you saw of me were my feet and the crutches. So, when I asked my mom to take this shot, I thought it'd make for a perfect challenge.
I actually had a lot of fun with this one and was able to keep my brushstrokes loose throughout! Woo hoo!! In order to avoid too much detail, I once again used one brush for the entire piece, except I did pull out one of my tiny ones for the "Hunter" labels (and my signature). 🙂 While I continue to strive for more freedom in my work, the one thing I've learned that I am not willing to let go of is the richness of color as I enjoy it too much! Unfortunately, in watercolors that means many layers which equals more time; but I am okay with that as long as I continue to gain freedom in my approach and work.
If you missed my post which explains this year-long challenge, please read You're Invited To The Unveilings.