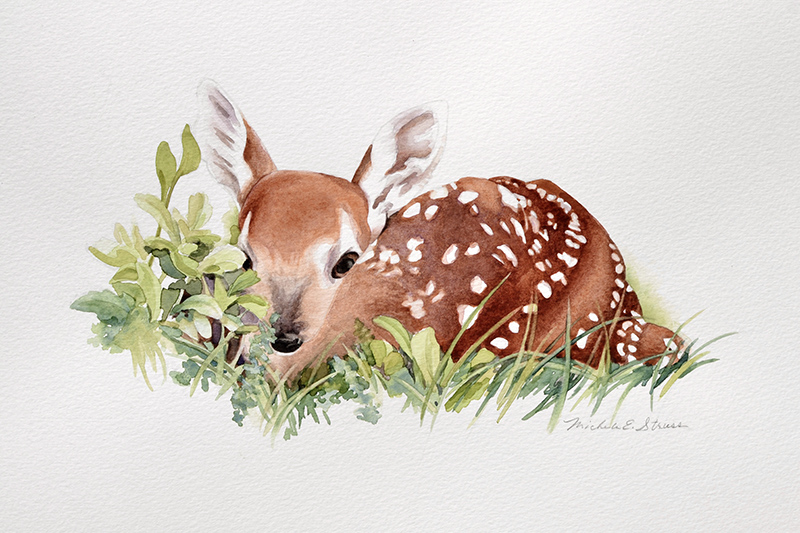 I went away last week with my friend and came home Friday evening. On my drive home I was thinking about what I would tackle for this week's challenge. Little did I know that my inspiration was waiting for me in my backyard! My dad found this fawn in our landscaping between the house and my studio earlier on Friday, but it was still there when I came home. I felt so privileged to see this rare site. It was so tiny and passive that I am certain he had just been born that day. We never did see its mother, but it is very common for her to leave the baby to go eat after giving birth, so prayerfully she came back and got him afterwards! Nonetheless, the two times I went to see him, he was alone and I just kept thinking how vulnerable it was. We have all sorts of wild animals that roam our property. I so badly wanted to take him in the house to care for and protect him! I always wanted a pet giraffe, so I figured I'd start small. Haha!!
What I am actually most excited about with this painting is the greenery. I am so used to painting from photographs 'border to border', that anytime I have to 'make up' a background or pick and choose what parts of it to keep or leave out, I typically freeze. With this piece I wanted to capture how the fawn was snuggled into a 'corner' where it felt safe, but I didn't want to paint all of it. Thankfully, it just flowed last night to bring a bigger breakthrough than it appears. Smile.
If you missed my post which explains this year-long challenge, please read You're Invited To The Unveilings.