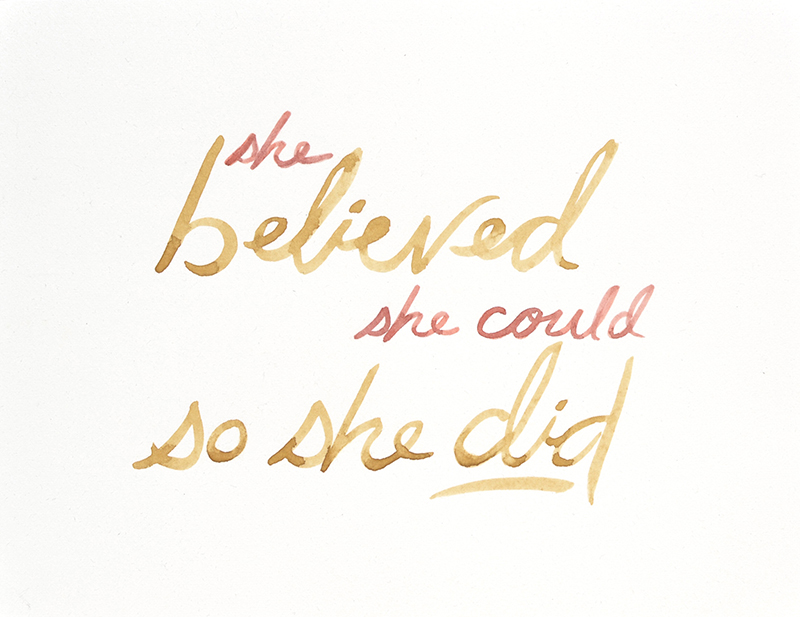 This week's challenge may seem underwhelming, but there really is more achievement here than meets the eye. I decided to do this piece as a challenge because of a discovery I made after last week's challenge. Once I completed "An Undercover Blessing" I wanted to write the title in pencil directly on the painting as a part of the piece, but was too afraid of ruining it. With that, I quickly realized how far I veered from my original purpose of this challenge. This was to be a time of freedom, practice and experimenting…with the freedom to FAIL. These were never meant to be pieces of precious art!
Because I was held back with fear of 'touching the paper' and making a mistake, I wanted to 'touch the paper' this week in courage…without all my safety nets. Though I have done very little lettering in watercolor, anytime that I have done it, I have first drawn every letter, dot every 'i' and cross every 't' in pencil before touching it with paint. So, with this piece, the only pencil I used was to draw two lines (that the larger words sit on) in order to avoid a total train wreck. Other than that, it is all freehanded with watercolor.
Another challenge for me was achieving the fluidity in my strokes that I wanted. Lettering is a different art all together, and you hold the brush very differently than I am used to. Honestly, just figuring out the best brushes to use was a challenge! Haha.  And if you look close on the large words, you can see that I kept all the water stains…a big step for me!
The inspiration for this piece came from a gift my friend recently gave me with this saying on it. She said it reminded her of my challenges. I love it! Thank you, Susie, for the inspiration!
If you missed my post which explains this year-long challenge, please read You're Invited To The Unveilings.