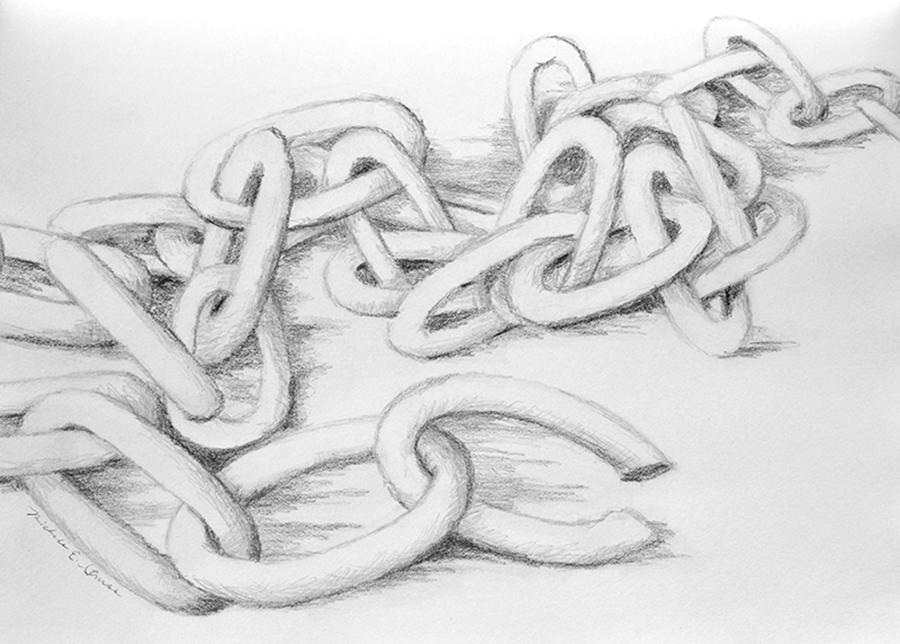 So, I had this brilliant idea for this week's challenge to help loosen my drawing style. It was one of my college drawing assignments, and that was to draw using my non-dominant hand. Because it was very challenging and awkward as I began drawing this piece with my right hand (I am left-handed) I thought, "FINALLY, I will have a loose drawing!" But before long I learned that if I used shorter strokes, I was able to compensate for the lack of control that was evident through the longer strokes that I normally draw with. So, while the overall look is still looser than if I drew it with my left hand, I do think I would have had better luck reaching my goal if I drew it with my foot! Haha. …though I have seen artists' work who paint with their feet because they have no arms and their work is AMAZING!
One breakthrough for me this week though was that I drew the majority of this piece from my mind's eye. That is something I NEVER do because I've become so dependent on "looking" at what I am drawing. I did use actual chains of my dad's for one part and a photo for another part, but I made the rest of it up. Honestly, that is a bigger step for me than it sounds. So, while I am still far from where I want to be in this challenge, visually speaking, I've learned in life that baby steps are okay…just as long as I am moving forward! …that's my little self-pep talk for the day.
I wanted to draw a chain as a symbol of the things in life that keep us bound; chains such as sin, fear, anxiety, sickness, addictions and painful memories to name a few. Then, at the end of the chain I drew a broken link to represent our hope in Jesus to be released from whatever keeps us from walking in freedom. Below is a part of my friend's testimony that speaks of this very thing. She is the one who wrote the word "abuse" on my painting "Redemption".
"… Then one night I was sitting in an airport, drugged out of my mind begging God to come and heal me and free me from my addiction…and He did. He just came and touched me and said, 'Do you trust Me?' and I said yes…and that was it. I never touched or desired a drug again. It was all a progression, but all radical encounters with the Holy Spirit. I never in my wildest dreams imagined being so free…so alive. Looking back, it's hard to remember or even imagine what my life used to be. I feel like I didn't even have a past, like God made me whole and I've been that way since the day I was born."
The thief comes only to steal and kill and destroy; I have come that they may have life, and have it to the full. John 10:10
If you missed my post which explains this year-long challenge, please read You're Invited To The Unveilings.