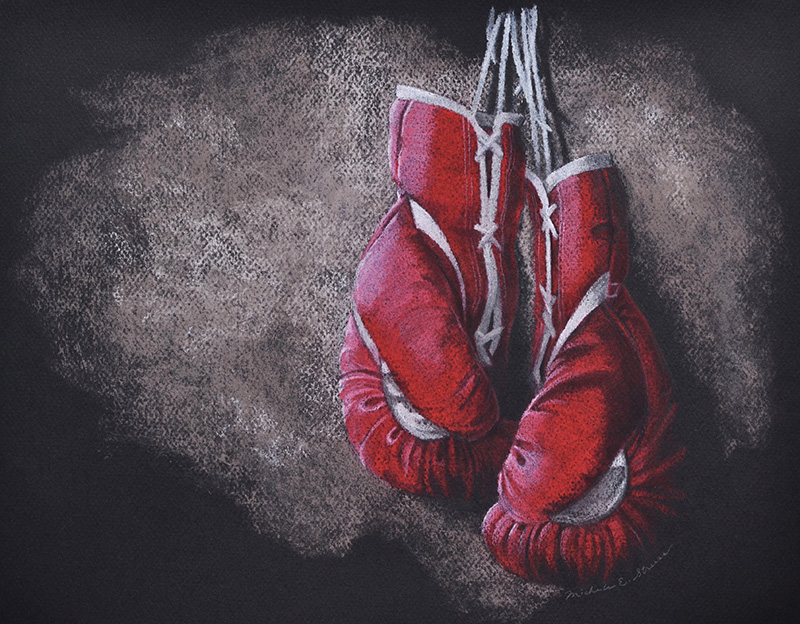 I've racked my brain trying to remember the initial inspiration for this piece, but I can't. It was last month and all I remember is that as soon as the idea dropped into my creative spirit, minutes later I received an email with a photo of boxing gloves! I knew it was to be one of my challenges as I fight for victory in areas of my life. Sometimes life is ruthless. Sometimes we need to be even more ruthless.
I decided to do this piece in pastels because I wanted to use black paper for it, but it was a struggle to keep my colors brilliant on it as the paper kept wanting to pop through. I'm not proficient enough in pastels to know how to overcome that…perhaps I'll try workable fixative next time.  Nonetheless, I really enjoyed working on this one! The photo I used to draw from was black and white with its light source coming from the front and upper right side, but I wanted to have it coming from the upper left, so I felt a lot of freedom coloring this as I didn't need to look very much at the photo after using it to draw from. Now that's a BIG step for me!
If you missed my post which explains this year-long challenge, please read You're Invited To The Unveilings.