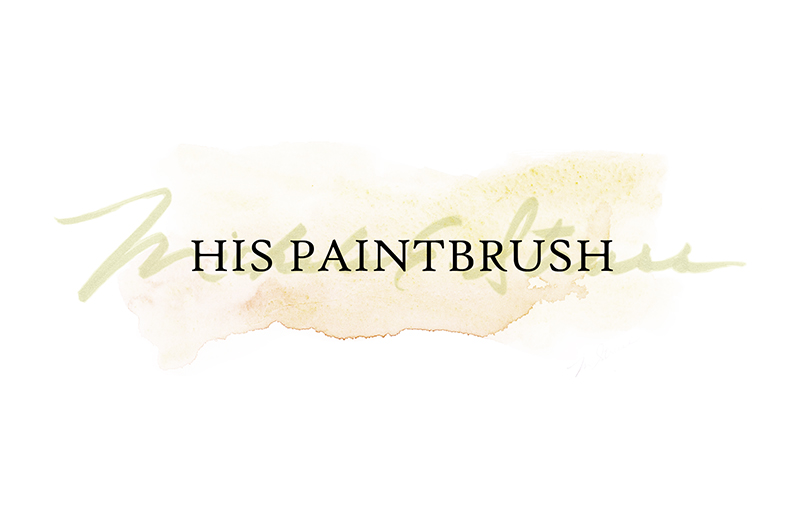 It started last October when I signed a contract with a web designer to create a long overdue new design for His Paintbrush's website. Her waiting list was long (10 months), but she was SO worth the wait!! Knowing the older I've gotten, the more easily overwhelmed I've seemed to be by the work set before me, I began working on my side of the project in March so I'd be ready for our start date.
In April though, I got COVID* which had me in the hospital for eight days and out of the race for eight weeks – eight pivotal weeks in my business rebrand and website redesign. My project start date with the designer arrived all too quickly and I was unprepared. As I began to feel the all-too-familiar feelings of overwhelm creep in, I made a very conscious decision not to allow myself to be overwhelmed by this undertaking, where anxiety would take my best.
Instead, I purposed to be overwhelmed by God alone.
That decision was profound and changed this entire course for me.  To keep my ever-growing to do list in check, every morning for the past 5 months (often before I even get out of bed), I've played "Overwhelmed" by Big Daddy Weave.  As a sole proprietor, I've had to juggle many things while working with the designer, taking all of my product photos and writing/rewriting all of my content.  I have pushed HARD and been stretched WIDE during these months, but with very few exceptions, I have absolutely thrived in this space, loving the many aspects of revamping my business.
I can't tell you how awe-inspiring these past several months have been as God has CONSTANTLY been making His Presence known to me. I can honestly say, this season has been up there with the chart topper for His Presence walking me through a challenging time. Was this whole endeavor smooth sailing? Nope. But God kept showing up and surrounding me not only with His Presence, but the presence of amazing people of all kinds.
Whatever my need, He provided. And I was overwhelmed. Again and again.
A special thank you to everyone who was God's hands extended to me: All of my family and friends who prayed for me and agreed to be my models, photographers, helpers, advisors and cross builders. Whatever my vision, others enabled me to see it through. God's provision also came through my web designer (AMAZING), web developers, a new printer, previous customers and influencers, favor in the industry, and the list goes on of kind hearts and gifted hands meeting me in my need and desires.
But it wasn't just God's provision that kept leaving me in awe, it was His Presence and character. As the song Overwhelmed says, "All that You are is so overwhelming." To know that the Creator and Sustainer of the universe is intricately involved in the details of my life is nothing short of overwhelming. He is not some cosmic being somewhere out there. He is right here with me and goes out of His way to remind me of that over and over again.
If you are wired like me and easily impacted by the stressors around you, it might help you too to be intentional in what you allow yourself to be overwhelmed by. The question isn't whether God is present and working in our circumstances; the question is, are we looking for Him underneath it all…including the HARD?
I'm pretty sure that what you find will overwhelm you too.
*COVID update: I could write a full post just about my experience, but there too, God was so ridiculously faithful and near. It is in my past and I have been incredibly healthy since. THANK YOU to each of you who prayed continually as I walked through the difficult and the unknown.