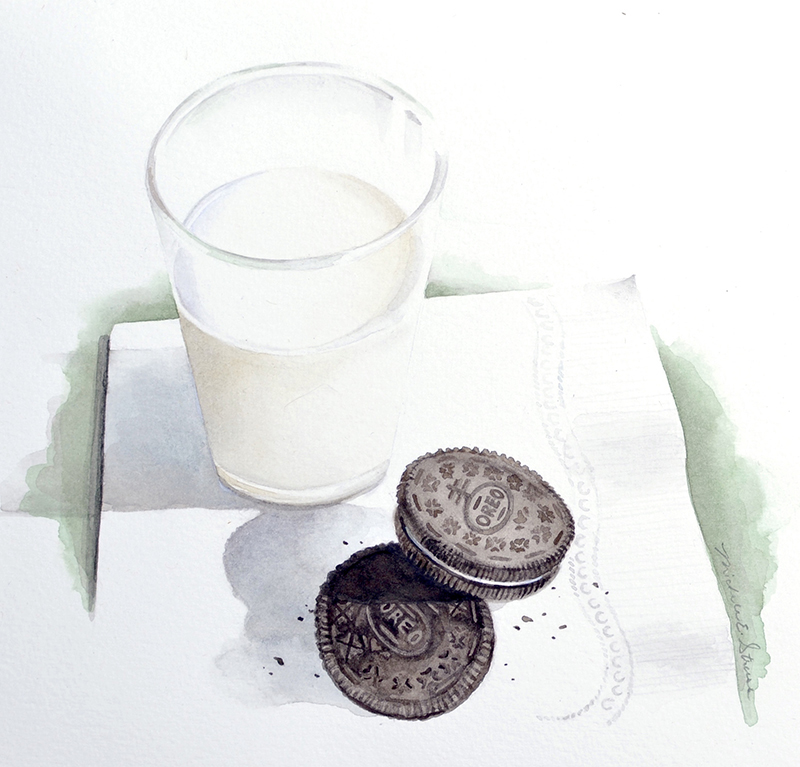 In last January's post where I shared about the creative challenge that I was taking on I said, "I am hoping to find freedom in my work, freedom from perfection, freedom to enjoy my gift more and freedom to fail." As I shared in last week's post, "Overcoming Myself" (read here), I felt these were goals that I fell short of. As I was working on my final challenge, "He Enables Me" I struggled terribly with the sky; so much so that I believe it took 7 attempts before I 'got it'. In the middle of one failed attempt after another, I thought, "Did I really think the enemy was going to give up my freedom this final week without a fight???" Did I think he was going to give up my freedom at all without a fight?? I would have been a fool if I thought differently.
My gift does not come easily for me; it is something that I have to fight for, especially in watercolors. Yes, I am often trying to get the medium to do things that it is not intrinsically meant to do, nonetheless, I so want to be able to approach my art without striving. Yet, while the enemy no doubt uses my constant struggle against me, God uses it for me…
My ongoing struggle keeps me both dependent and humble.
It's through my weakness that God's power and glory can most clearly been seen. "But we have this treasure in jars of clay to show that this all-surpassing power is from God and not from us." 2 Corinthians 4:7
As a perfectionist, I want you to see me and my work in my best light, but something that I am learning through my experience last year is that being vulnerable IS allowing others to see me in my best light. How is a façade my "best light"? It's not. The truth is, it is easy for me to get discouraged over what feels like weakness of character and a hopeless pursuit of freedom, but how about I change my perspective and focus?
It is intriguing to me how the very thing I enjoy most in art, and that I am best at, is what the enemy has been using most against me. Detail. Yes, with detail comes control; and control is the opposite of freedom. I will not deny that truth for one moment, but I will continue to fight for the freedom I am longing for. However, God has been shining light on this darkness, exposing how I have been so focused on my lack that I have been undermining and devaluing my gifts and strengths. Wow. God created me the way I am for His purposes…period. Though the enemy uses my perfectionism against me, I cannot get caught up in the web of his lies and condemnation. I cannot neglect who Jesus has called me to be and what He has equipped me to do…as I am. Indeed, my glass is not half empty, rather half full.
I will indeed continue to fight for the freedom I so desire, but I will not be forsaking my strengths along the way. Every one of us have areas of our lives that we would like to overcome and improve on, but in your pursuit please watch out for the traps that can trip you up: Traps that cause you to lose perspective and forget God's gifts. Your enemy and mine is NOT for us. He wants to derail us. He wants to imprison us. I leave you with Jesus's words… "The thief comes only to steal and kill and destroy; I have come that they may have life, and have it to the full." John 10:10
*The painting above, "Friday's Snack", was week four's challenge last year.