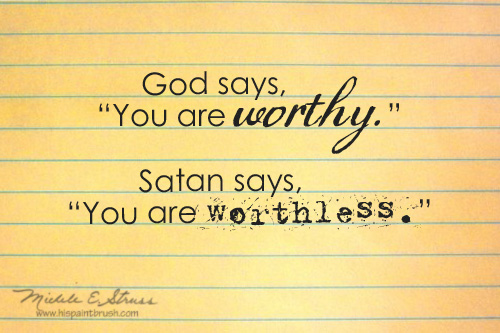 Okay, buckle your seatbelts because I am fired up! I have been so taken back by some of the things that my friends have been admitting to me recently. These are friends that I have known for years…whose character and walk I am well familiar with. Yet, over the last several days and weeks I have been hearing them talk about taking their own lives, not feeling loved or worthy, having no purpose, that they think they're going to lose their friends, family and marriage (due to depression), that they need to get out of the healthy, godly relationship they are in (due to confusion and anxiety) and the list goes on.
Every one of us wrestles with feelings of insecurity to some degree…we're human! But that is not what has me fired up. I am angry at the blatant lies that Satan is feeding to God's children!! …including me! I fell prey to his attacks this past summer as I shared in "Who Am I and Who Are You?" As long as he can make us feel insignificant, he knows we will lose sight of our value and purpose. He wants us to be ineffective.
I've had it. I get so angry at the enemy when I hear those I love sharing their distorted perspective…or when I have my own. Where is truth?!?! Our enemy is doing everything he can to hide it from us. As long as he can blind us to the truth of who God says we are, he knows we will fall defenseless against his attacks and lies which leave us feeling unloved, insecure and unworthy. Therefore, we cannot base our view of ourselves on our feelings and circumstances because those things change. Our understanding of who we are must be based on the unwavering truth of God's Word. (For some verses on who God says we are, please read "Who Am I and Who Are You?".)
Jesus said, "The thief comes only to steal and kill and destroy; I have come that they may have life, and have it to the full" (John 10:10). We are being robbed of the freedom that Jesus died to bring us! Sometimes we forget that God has given us authority and power over our enemy…but unless we exercise that authority and power, they are useless. Since weapons don't kill unless they are used, let's get these scriptures out of the arsenal and use them!!
I have given you authority…to overcome all the power of the enemy; nothing will harm you. – Jesus in Luke 10:19
You will rule in the midst of your enemies. Psalm 110:2b
"Get behind me, Satan! You are a stumbling block to me; you do not have in mind the concerns of God, but merely human concerns." – Jesus in Matthew 16:23b
"…I come against you in the name of the LORD Almighty…whom you have defied." 1 Samuel 17:45b
For God has not given us a spirit of fear, but of power and of love and of a sound mind. 2 Timothy 1:7
All the nations surrounded me, but in the name of the LORD I cut them off. Psalm 118:10
Then the LORD reached out his hand and touched my mouth and said to me, "Now, I have put my words in your mouth. See, today I appoint you over nations and kingdoms to uproot and tear down, to destroy and overthrow, to build and to plant." Jeremiah 1:9-10

"I pursued my enemies and crushed them; I did not turn back till they were destroyed. I crushed them completely, and they could not rise; they fell beneath my feet. 2 Samuel 22:38-39

But don't stop! Pursue your enemies, attack them from the rear and don't let them reach their cities, for the Lord your God has given them into your hand." Joshua 10:19
Phew, I feel better getting all of that out…though it's no time to retreat! Let's get fighting because we have some giants to behead, beauty to wear again, love to receive, confidence to shine, peace to rest in, purpose to fulfill, worth to reclaim and joy to dance in! Freedom and truth are waiting for us!!! NOW MARCH!