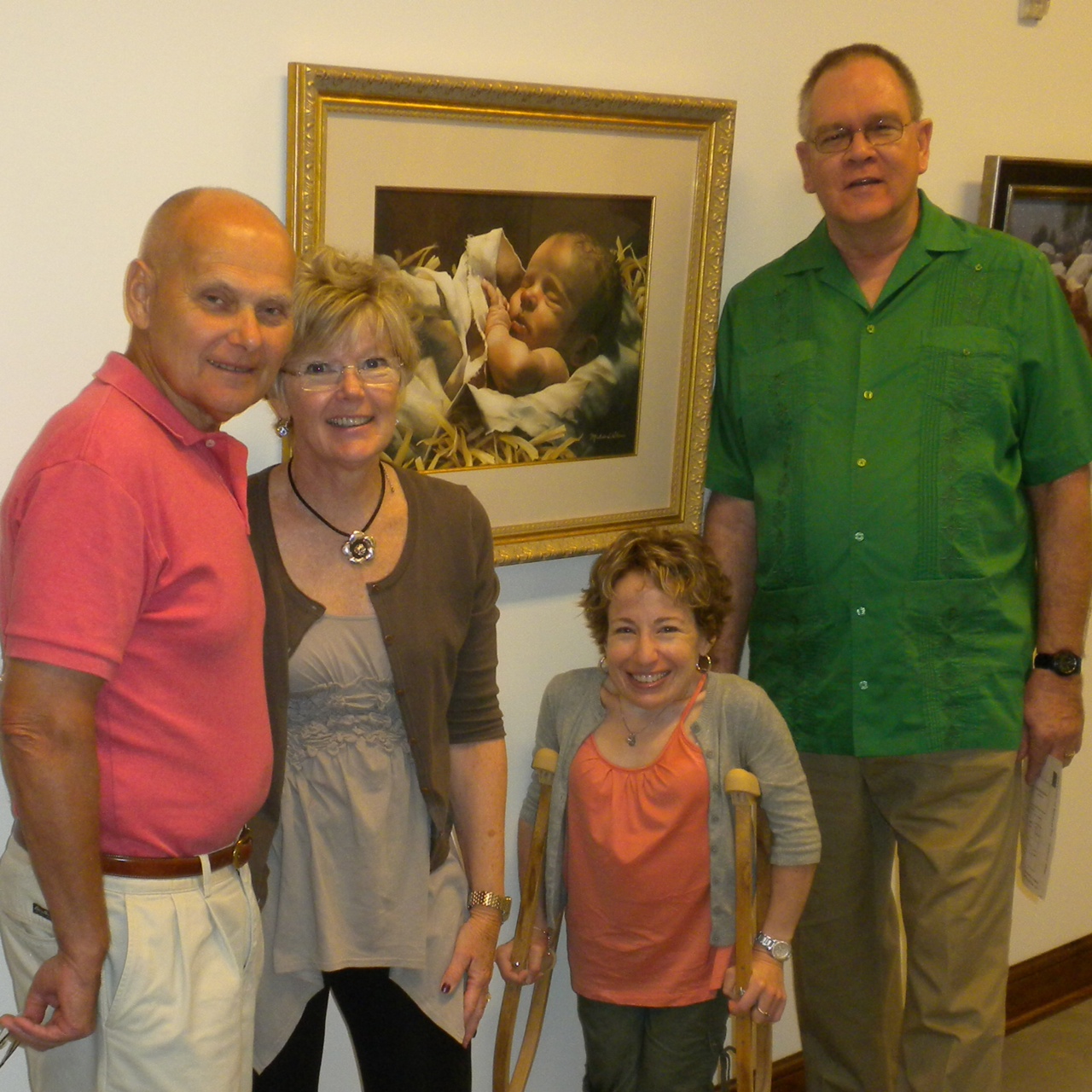 I woke up yesterday morning to the most heart-wrenching text; "Gary went home to Jesus at 12:30 this morning".  Gary has been a dear friend of mine for the past 20 years.  He and his family were missionaries in El Salvador for many years which isn't where our paths first crossed, but it was how our paths first crossed.  If memory serves me correct, Gary stood 6' 7" tall and I stand only 3' 10".  We were quite the site walking the streets of El Salvador together.  Yet, despite our obvious differences, we shared common ground that immediately built a bond between us.  We both battled many physical problems, yet chose to love and trust God in all seasons of our lives.
Many years ago, I went down to El Salvador for a month to serve and I stayed at Gary's family's home during that time.  I remember sitting at the kitchen table one evening with him when he shared how he longed for heaven in light of the physical pain he was enduring.  Gary had 'the scent of home' for years.  Unfortunately, his pain and complications only compounded through the years causing him to suffer even more.
I believe Gary had 7 surgeries this year alone, yet he and his wife, Karen, resolved to praise God throughout their many storms…and it was an inspiration to everyone.  Gary had lost his one eye several years ago and fought very hard this year to save his "good" eye.  When he passed away, he could only see shadows out of that good eye.  In addition to the eye surgeries he had this year, he had 2 spinal surgeries as well as both shoulders replaced.  He had the second one done this past Monday.  His wife, Karen, texted me around 5:30 that evening to say that Gary was out of surgery and that all went well.  When I turned my phone on yesterday morning, I saw her next text which said that he had passed away during the night.  My heart plummeted with the news that I was not at all prepared for.  I don't know any details, but I do know that God's plans for Gary's life here on earth were finally complete and he has now heard his heavenly Father say to him, "Well done, my good and faithful servant".
Nevertheless, heaven's gain is our loss.  Through many tears I have cried, "My friend…my friend".  Gary was a true friend in every sense of the word.  He traveled hundreds of miles via airplane and car to support me and the things God was doing in and through me.  His home could double as a Michele Struss art gallery as it is filled with my work.  He knew well the power of prayer and his tender heart led him to intercede for me many, many times.  When I hurt, Gary hurt and would express his pain and concern for me in the most heartfelt words…even when he knew they would be difficult for me to hear.  That is a true friend to me.  He wanted the best for me even if it cost him something.  So now it is my turn to want the best for him even if it costs me something.  I will sure miss receiving emails, calls and such from Gary, but my friend is finally where he has longed to be.  He is with Jesus, free of pain and with his sight fully restored.
Tears are streaming down my face even now.  Death just seems so final here on earth, but the truth is, Gary invested much into my life over the past 20 years and on a larger scale, he invested much in many, many lives around the world.  His life reminds me of the importance of sowing into people's lives, for that is the part of us that will carry on in this life after we are gone.  Gary, you were an example for us all to follow.  Thank you…for everything.
"I have fought the good fight, I have finished the race, I have kept the faith."
2 Timothy 4:7
*Gary sharing his testimony only one month ago: https://vimeo.com/107510257