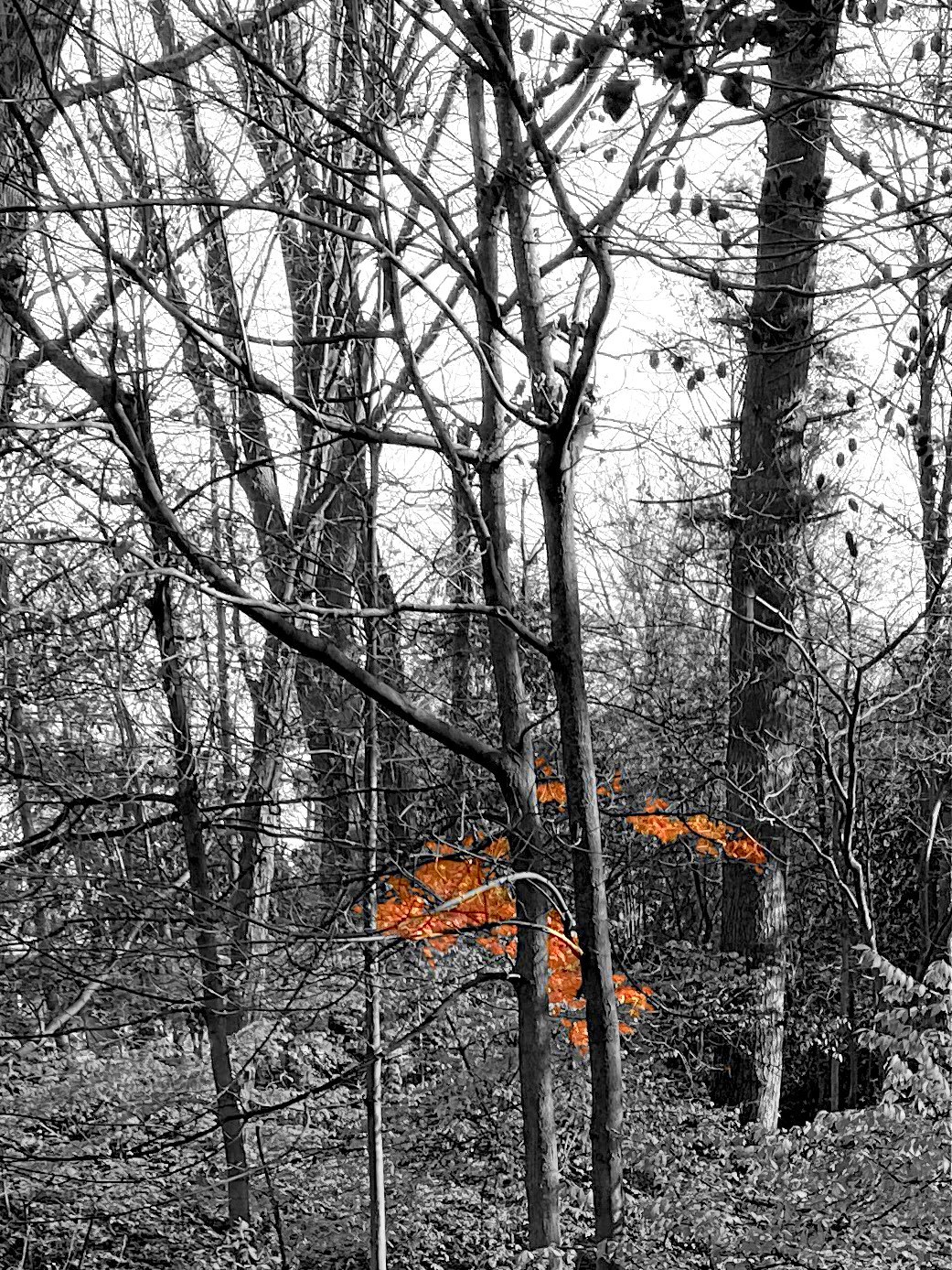 A week ago today I was stopped at a traffic light on my way to a doctor's appointment, when a tree off on my right caught my eye.  Here in northern NJ, the brilliance of fall is far past peak, with the majority of our deciduous trees barren.  Nonetheless, there are still a few that are holding fast to their glory.  This tree that caught my eye was among a bunch of brush, was hidden by trees and stood very small in the middle of the more mature trees nearby.
YET, SURROUNDED BY CHAOS AND INTIMIDATION, THIS LITTLE TREE SHINED BRIGHTLY AND STOOD OUT.
As I waited for the light to turn green, I wondered how many people actually saw that hidden tree heralding its own glory. Then, I thought of how if no one at all, not even I, saw that tree, it would have still stood there glowing louder than its environment. My thoughts then wandered to the possible "beauties" that God had placed in the middle of my personal barren and chaos that I never noticed.
THE LIGHT TURNED GREEN, AND I WAS ON MY WAY, BUT THE INSPIRATION OF THAT LITTLE TREE STAYED WITH ME.
While that intimate moment had passed, I wanted to capture the spark that started it. So, on my way home from the doctor I looked as I drove by, but the sun had moved, and the tree blended in with his surroundings. I went the next day with my mom but arrived just after the sun would have been shining directly on it. I drove by two other times last week, but my timing continued to be off. Five days after my encounter with that tree, my mom and I were driving by, but for some reason, the tree was totally off my radar. Out of nowhere, in a rushed voice my mom said, "There's the tree!" The sun was falling perfectly on it, setting it apart as it did when I first saw it.
PROBLEM WAS, FIVE DAYS TOOK ITS TOLL ON MY INSPIRING FRIEND.
Very few leaves remained holding on.  The fleeting moment of seeing that tree in all its glory had passed.  There was no getting it back.  There was no recapturing it, no matter how hard I tried.  It was another reminder in my life to live in the moment with my eyes wide open.  Seasons change (both the good ones and the hard ones), but God does not.  In the middle of the "brush" of life and in the face of the "tall" that surrounds us, God places beauty to remind us that He is near.  We do not have to notice those signs of His Presence to validate their existence; but this I know, I don't want to miss them.