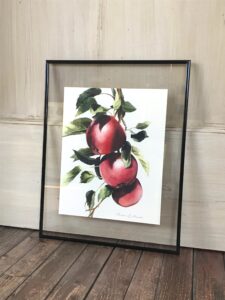 Release #8: "Pick One"
Here in the northeast it's apple picking season!! …albeit, near the end. The latest print release in my creative challenge series, entitled "Pick One", was inspired by one of my trips apple picking. So fun!
Artist Statement: As the branch of a tree must remain attached to its life source in order to bear fruit, so we must remain connected to God in order to be producing the things of Him.
"I am the vine; you are the branches. If you remain in me and I in you, you will bear much fruit;" – Jesus in John 15:5
In verse 2 we're told "He cuts off every branch…that bears no fruit, while every branch that does bear fruit he prunes so that it will be even more fruitful." Pruning can be painful and confusing, but as long as we remain standing in our faith, we will come through stronger and more fruitful than ever.
…the fruit of the Spirit is love, joy, peace, patience, kindness, goodness, faithfulness, gentleness, self-control; against such things there is no law. Galatians 5:22-23 (NASB) We cannot produce that kind of fruit on our own, but through the Holy Spirit we are able to bear a harvest that strengthens the world around us.
"This is to my Father's glory, that you bear much fruit, showing yourselves to be my disciples." – Jesus in John 15:8
Details:
8 x 10"
Unframed
$35
Find it here for your own collection or to gift.  …it'd make a great Christmas present for a teacher!