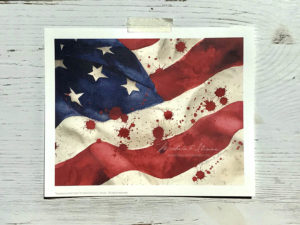 Release #6: "Freedom is Not Free"
Our national anthem proclaims our country as "the land of the free and the home of the brave". Those words were well penned by Francis Scott Key, but as I've heard it said, the USA is the land of the free because of the brave. In their valiant pursuit, way too many paid for our freedom with their lives, health, limbs and even their own freedom. While the United States is far from perfect, may we never lose sight of our patriotism and always remember the men and women who paid so very much for our country's freedom.
Add "Freedom is Not Free" as a statement piece to your 4th of July celebration!
Details:
This entire series of prints mimics the original watercolors themselves in their look and feel.
8 x 10"
Unframed
$35
Find it here for your own collection or to gift.