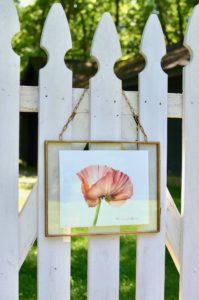 Release #5: "A Pop of Color"
The Poppy is one of my favorite flowers for its bold pop of color and delicate pleated petals. I sure follow in my Creator's footsteps, loving detail as much as He does. Sometimes we can wonder if God is aware of all that is playing out in and around us, but if He is intricately pleating the petals of Poppies then we can be sure He is intricately working on the details of our lives too.
"Consider how the wild flowers grow. They do not labor or spin. Yet I tell you, not even Solomon in all his splendor was dressed like one of these. Luke 12:27
"A Pop of Color" is one of the watercolors I painted during my yearlong creative challenge and has just been released in print! Use it as a reminder, for you or someone you love, that long before you can see the beauty, God is working on the details that will unfold in your life!
Details:
This entire series of prints mimics the original watercolors themselves in their look and feel.
8 x 10"
Unframed
$35
Find it here for your own collection or to gift.