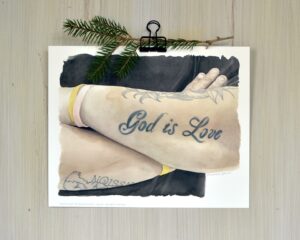 Release #15: "God is Love"
Well, here it is, the fifteenth and final print release in my special edition "Creative Challenge"! The inspiration for this piece came while in Apple for tech support. Our advisor, Alvin, had a tattoo that caught my eye… "God is Love". I was captivated by the declaration he was making to the world around him and his big heart seemed to only resound those words marked on his arm.
Through his tattoo, Alvin is declaring truth and hope to a hurting world. That makes me think of how God declared His love to a hurting world that first Christmas in Bethlehem over 2000 years ago. Whether tattoos are your thing or not, I wonder what message you and I are declaring to the world around us.
*Thank you so much Alvin for agreeing to be my model for this piece! …its one of my favorites!
Artist Statement: In a world where tragedy, sickness and heartache seem to thrive I hear, "How can a God of love allow _______?" It's a fair question when coming from human reason, but unfortunately, we still live in a broken world. Nonetheless, I know for me, I have experienced God's greatest love in the heart of my greatest battles and heartaches, NOT in spite of them. Henri Nouwen once said, "There are some things about God that cannot be known apart from pain, weakness and need". There is something about desperation that enables us to experience His love in greater measure.
God loves us unconditionally and longs for our unconditional love and devotion in return. One of the most beautiful ways to love God is to love each other through this broken world.
And so we know and rely on the love God has for us. God is love. Whoever lives in love lives in God, and God in them. 1 John 4:16
Details:
8 x 10" Print
Unframed
$35
Find it for your own collection or to gift this Christmas here.