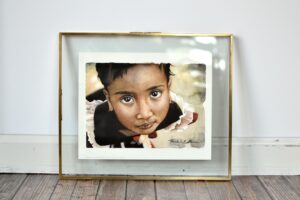 Release #14: "Hiding Hurt"
Today is Giving Tuesday, an international day of charitable giving, so it's the perfect day to release my 14th print, "Hiding Hurt"! All net proceeds from this piece will go to Calcutta Mercy to provide free medical treatment to children in need. How awesome is that?!
Artist Statement: I do not know this little girl's name or story but was no less captivated when my friend sent me the photo she took of her while in Calcutta, India. There just seemed to be a story behind those eyes that very few knew about. We all seem to have those stories, don't we? Maybe that's why I was so drawn and wanted to capture her in watercolor.
The Lord is a refuge for the oppressed, a stronghold in times of trouble. Psalm 9:9
Details:
8 x 10" Print
Unframed
$35
Find it for your own collection or to gift this holiday season here.
*Thank you to photojournalist Morgana Wingard for giving me permission to use your amazing photography as my reference once again. I am humbled and honored in one! Please check out her awe-inspiring work at http://www.morganawingard.com/index
**For more information on Calcutta Mercy and the far-reaching and deep impacting work that they do, please visit https://www.calcuttamercy.org/.