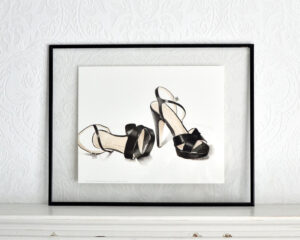 Release #13: "Ooh La La"
As I'm sure you know, today is Small Business Saturday, a day to encourage shoppers to "Shop Small". …and after all, I am small. Haha!! On a serious note though, when we support a small business, we are supporting a dream. So, for today only, I am offering FREE SHIPPING on all orders of any amount! Please use code: shop small. After entering the code, be sure to select "free shipping".  Remember, offer expires tonight at midnight!

Today I am releasing the 13th print in my Creative Challenge series entitled, "Ooh La La"…
Artist Statement: In Christianity, the Good News is the message of Jesus' life, death and resurrection which provides salvation to those who believe. Romans 10:15b says, "How beautiful are the feet of those who bring good news!" While I am quite certain God was not talking about feet graced in high heels when He inspired the writer's words there, He no doubt was conveying His perspective of those who obey His command to go all over the world and preach the gospel. …of course, I don't think a fine pair of shoes can hurt the cause!
Details:
8 x 10" Print
Unframed
$35
Find it for your own collection or to gift this holiday season here.