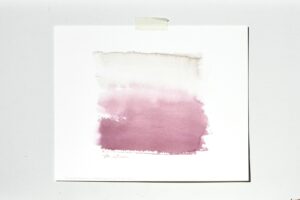 Release #12: "The Purity of Watercolor"
Last evening, I introduced to you my latest print release, "The Art of Watercolor"; well, here's it's cousin, "The Purity of Watercolor". Haha!
Artist Statement: Something that God has been working in me is purity of heart and mind. It can be easy to make a right choice here and there, but to consistently walk in right choices in our thoughts and actions can be hard. We're human. I'm human. Psalm 51:10 has become my prayer, "Create in me a pure heart, O God, and renew a steadfast spirit within me."
Keeping my paintings "pure" isn't always easy for me either! My process and techniques with watercolors are unorthodox, forcing them to be what they are not. That's why my work looks more like oils than watercolors. In the process though, I taint their raw beauty and potential. When I created "The Purity of Watercolor", my goal was to keep myself from robbing the medium of its unique inborn qualities and characteristics with my manipulation. Ahh, so hard for this artist to do! This wash represents a baby step for me, but it is no less a step in the right direction!
Details:
8 x 10" Print
Unframed
$35
Find it for your own collection or to gift this holiday season here.