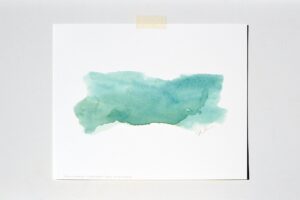 Release #11: "The Art of Watercolor"
Well, only 4 more releases to go after this one to complete this series of 15 prints from my Creative Challenge comprised of 50 works of art.  My plan is to launch all 4 in the next 2+ weeks.  In the meantime though, let me take this opportunity to wish you and yours a Blessed Thanksgiving celebration!
Artist Statement:  Watercolor is a paint that has a mind of its own. It's the beauty and the challenge of the medium. It's why I love them and sometimes strongly dislike them. This strong-willed girl is constantly fighting against the paints to force them to do what 'I' want…although that doesn't mean I always win! It really makes me think of the sovereignty and ways of God. There too, this strong-willed girl fights to control what she has little control over.
The purpose of my yearlong creative challenge (where I created a new piece of art every week) was to loosen up my perfectionistic ways, allowing the inherent beauty of the medium to shine through. So, for three weeks, my works of art were nothing more than allowing the paint to do what it wanted, not what I wanted. The result was three washes, including this one… "The Art of Watercolor".
Quite possibly, you do not see the beauty and value in this piece that I do, but I am certain that is often God's perspective of our circumstances that we struggle to appreciate and understand. He sees beauty and value when we don't. Let's trust that His ways are higher than ours and that He is working all things out for our good…regardless of our understanding.
Trust in the Lord with all your heart and lean not on your own understanding; Proverbs 3:5
Details:
8 x 10" Print
Unframed
$35
Find it for your own collection or to gift this holiday season here.