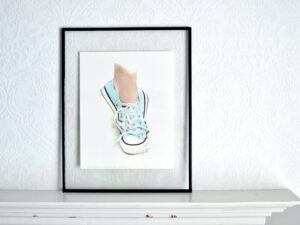 Release #10: "Emma's Dancing Chucks"
This painting is close to my heart as my oldest niece, Madelyn, took the photograph that I used as a reference. And her model…my other niece Emma and her dancing feet in the ballet step, sous-sus. I loved the photo so much that it was my inspiration for the first of 50 works of art I made when I challenged myself to create a new piece of art every week for a year.
"Emma's Dancing Chucks" is a fun representation of Psalm 149:3a… "Let them praise his name with dancing…" Praising our God is to be far from solemn and somber, so let's pull out our dancing chucks and get praising!
Details:
8 x 10" Print
Unframed
$35
Find it for your own collection or to gift this holiday season here.