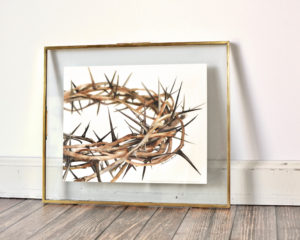 Release #4: "Should Have Been Mine"
A crown of thorns is a reminder of what Jesus endured, overcame and won for everyone who believes (Romans 10:9). He suffered the punishment that we deserved. The crown of thorns He bore should have been on your head and mine.
But he was pierced for our rebellion, crushed for our sins. He was beaten so we could be whole. He was whipped so we could be healed. Isaiah 53:5 NLT
"Should Have Been Mine" is one of the watercolors I painted during my yearlong creative challenge and is just now released in print for your own collection as a raw reminder of the price of our redemption.  And just in time for Easter!
Details:
This entire series of prints mimics the original watercolors themselves in their look and feel.
8 x 10"
Unframed
$35
*Ships immediately.
Find it here.