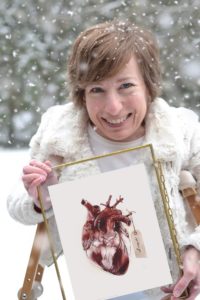 Release #1: "Spoken For"
I am so excited to share with you that I have a new series of prints! It's been a longtime coming, but they are here and I couldn't be more pleased. This collection includes 15 of the 50 pieces of art that I created during my yearlong creative challenge. I will be introducing them one at a time as the year unfolds, but I am starting with my favorite one of them all…"Spoken For".
"Guard your heart above all else, for it determines the course of your life." Proverbs 4:23
There are countless things in this world fighting hard for our affections. If we don't guard our hearts, we are in danger of losing what is most precious to us: Our faith, marriage, family, God's promises, peace, and the list goes on. It's rarely easy, but we must be vigilant over our source of life.
With this print series, I didn't want to just reproduce the images, but the feelings and emotions of holding the originals themselves. They are all printed on acid-free paper that mimics the watercolor paper they were painted on with the same margins as the originals.
Now you can add "Spoken For" to your own collection! Or it'd make the perfect Valentine's Day gift!!  Find it here.